What can I help you with?
Design & Build
Working with you and our great designers, we can build you a site that matches your vision and executes your goals.
Specializing in Shopify e-commerce website construction, we create clean & responsive sites for mobile and desktop.
• Store Set up
• Website Migrations
• Theme Customization
• Manage product import process
• Art direction
• Photo shoots
• Graphic design
• Copywriting
Collaborate & Succeed
We are your outsourced growth department, helping you build a sales & marketing machine to accelerate your revenue growth.
• Email campaign strategy
• SEO and Adword Campaign management
• Growth strategies
• Social media management
• Google my Business
• Directory listing management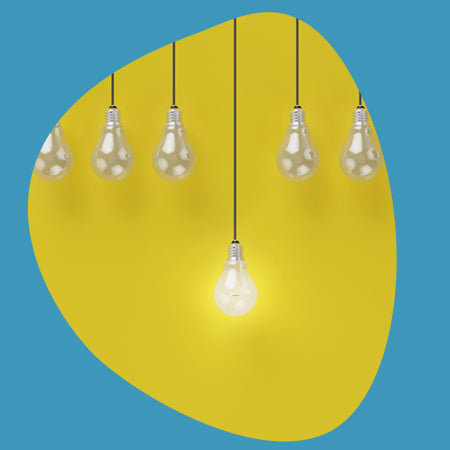 Completely Custom Web Projects
Do you have a great idea for something that has not been built before? We have a team of creative developers with an almost unhealthy addiction to technology. Luckily, their love affair is your gain. From custom programming additional functionality to a Shopify site or building from scratch, we can bring your online vision to new heights.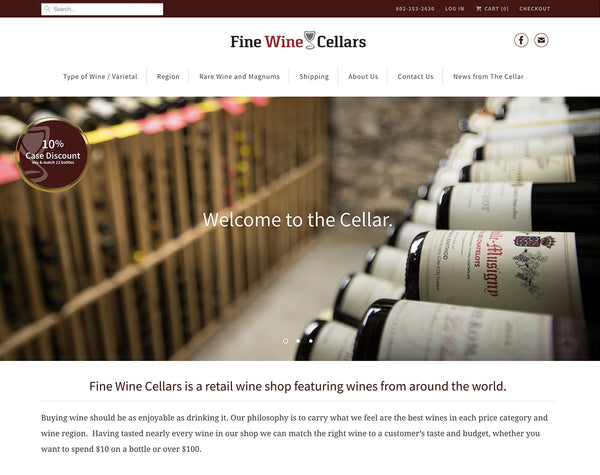 Fine Wine Cellars
Fine Wine Cellars had an older Point of Sale system and a web site with no shopping cart. They were looking to upgrade their POS system and start selling online.
The new Fine Wine Cellars site now has a customized Shopify store with great features including an automatic case discount, a unique mega menu, and a very cool In Store Pick up option. Inventory is managed and synced between the web and the new Shopify POS system for the the retail store.
View the Site
Fowler's Chocolates, Buffalo NY
Built from scratch in 2013, Fowler's Chocolate's website takes advantage of Shopify's many features, including customer accounts, abandoned cart automation, Mailchimp integration, gift cards, discount codes, and a custom API weather app to better inform the fulfillment department about the weather conditions in customer delivery locations. HMP Web Consulting provides full service website management including seasonal product changes, product photography, content management, all email campaigns, social media, SEO and adwords campaigns.
View the SIte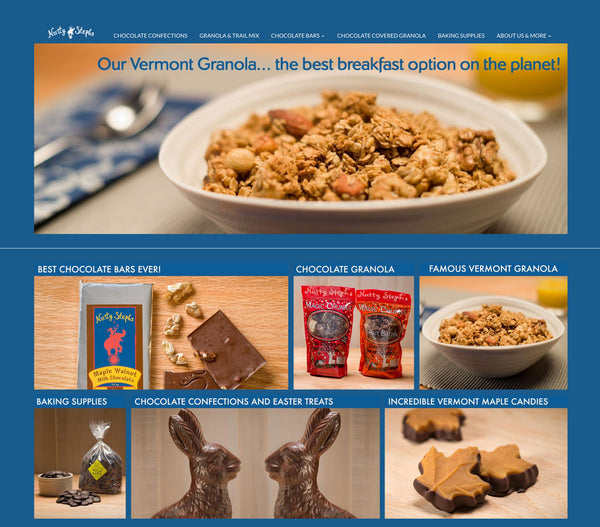 Nutty Steph's Middlesex VT
After 12 years of lagging web sales and almost giving up on e-commerce, Nutty Steph partnered with Heather at HMP Web Consulting and moved their site from Joomla to Shopify. Heather oversaw a full product line photo shoot to create mouthwatering images of all confections and granola products.
This site takes advantage of an app called Quantity Breaks to increase order value. Abandoned cart automation has generated a 12% increase in sales. HMP Web Consulting provides out sourced web marketing services including all email campaigns, flash sales, and social media content. With a modest advertising budget the site has seen a 100% increase over last year's revenue.
View the Site
Stowe Kitchen Bath & Linens
Stowe Kitchen Bath & Linens selected a very robust theme with a lot of great features including mega menus to showcase all the varied products and departments. This theme also has fantastic sort and filter features to help customers narrow down the search for the items they are looking for. With features like abandon cart, event manager app, Instagram feed, a bridal registry app, and an active blogger, Stowekitchen.net has seen an increase in online sales.
View the Site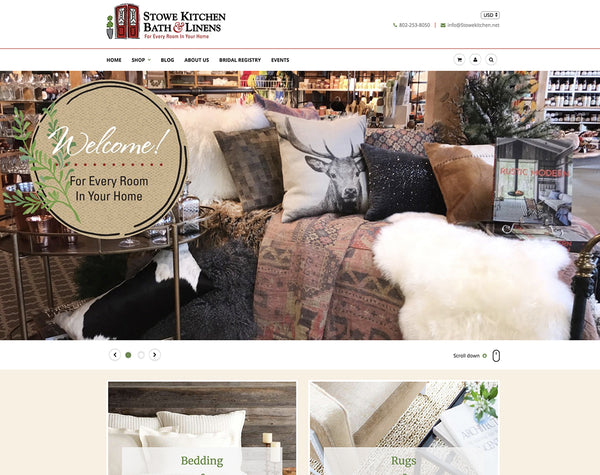 Testimonial
"Heather is deeply engaged in our website's success. Beyond building and maintaining the site's functionality, and with a flair for design to boot, Heather actually served to drive the sales engine of the site. She does this with a strategic schedule of social media and email campaign activity. After building and finding disappointment in four websites over twelve years in business, we were almost ready to give up web commerce altogether, until Heather came along with her strategic methodology, and it was our web fantasy incarnate. Best of all, the fantasy became reality!"

Jaquelyn Rieke, Nutty Steph's